Noah W.'s blog is full of technological exploration, findings, programming, and the life of a young developer.
A little over ten years ago, in the fall of 2009, all of my friends and friends of friends who were in some sort of garage band at the time decided to hold a concert. It was around Halloween and I remember some folks, myself included, to be in costume. I was dressed as Fred from Scooby Doo.
I don't quite remember why my friends started doing this, it wasn't the first concert they held for our friends, nor was it the last. But I remember this one because I attended sick. As was my girlfriend at the time. I had some sort of cold as was slightly feverish, but not bad enough to stop me from doing the things young people did.
In the apocalyptic red-colored glasses of 2020 this was a terrible idea. For those that don't recall 2009 was the year of the H1N1 outbreak. Obviously there was no way to know that that was or was not going to be the pandemic. We--that is to say humankind--are bad at taking thing seriously until they are very serious. It is very possible that the cold I thought I had was actually H1N1. For the remainder of our relationship, my girlfriend insisted that it was. I pointed out to her repeatedly that I was never tested and therefore it could not be proven. Was there even testing for H1N1? I honestly don't remember.
The last two months have certainly been interesting. I'm not here to talk about COVID-19, there are plenty of places to get information about that. I am here to share some new media, or old media, or just media. I've been consuming more of it and I presume you might be as well. The inspiration for me to write this post has actually been "Where is My Mind" by The Pixies. It's an amazing song that really speaks to me right now and somehow speaks to my emotions...beyond the fact that sometimes I really don't know where my mind is right now. Hopefully you know where yours is. If not let's find them together.
Published: 4/17/2020 10:04 PM
Article by: Noah Wood
This has been a long time coming. I built my first PC in 2006. It featured some awful components as I was afraid to spend more than $300 USD on the thing. I had a Radeon X1650 Pro and some Athlon dual-core Micro Center special deal for a Foxconn (yes, a Foxconn-branded) motherboard and processor for $49. Not only did I really struggle with components and reliability issues, it quickly became obsolete; in 2008 I decided to be lazy and buy an iMac.
I used that iMac until 2012 when I thought about building another PC (I wanted to get back into Windows), but reliability scared me. I found a great deal on Dell OptiPlex 7010 slim tower with a five year warranty that screamed reliable to me. Say what you want about Dell, but their OptiPlex machines are really well built. I did upgrade a couple of times with a bigger HD (500 GB to 1 TB), adding an SSD, and upgrading the graphics a couple of times to eventually a GTX 750. Because of the form factor and PSU I was limited to a low-profile card that didn't need extra power.
Wanting to get back into gaming, and realizing the machine was starting to get long-in-the-tooth with my development and photo editing work, I decided to upgrade. Seeing as how AMD is killing it in terms of price/performance, I would be stupid to go Intel (or even possibly NVidia). So I present my all-AMD rig.
Specs
1Don't judge, I bought these over ten years ago and they're fine for using as speakers. I don't like headphones when using my PC
Pictures
I'm not a huge RGB person, but it's hard to avoid the parts these days. I didn't lean into it too much, but it's nice to color my system to match my background (purple these days). So that it how I'm going to use the lighting going forward.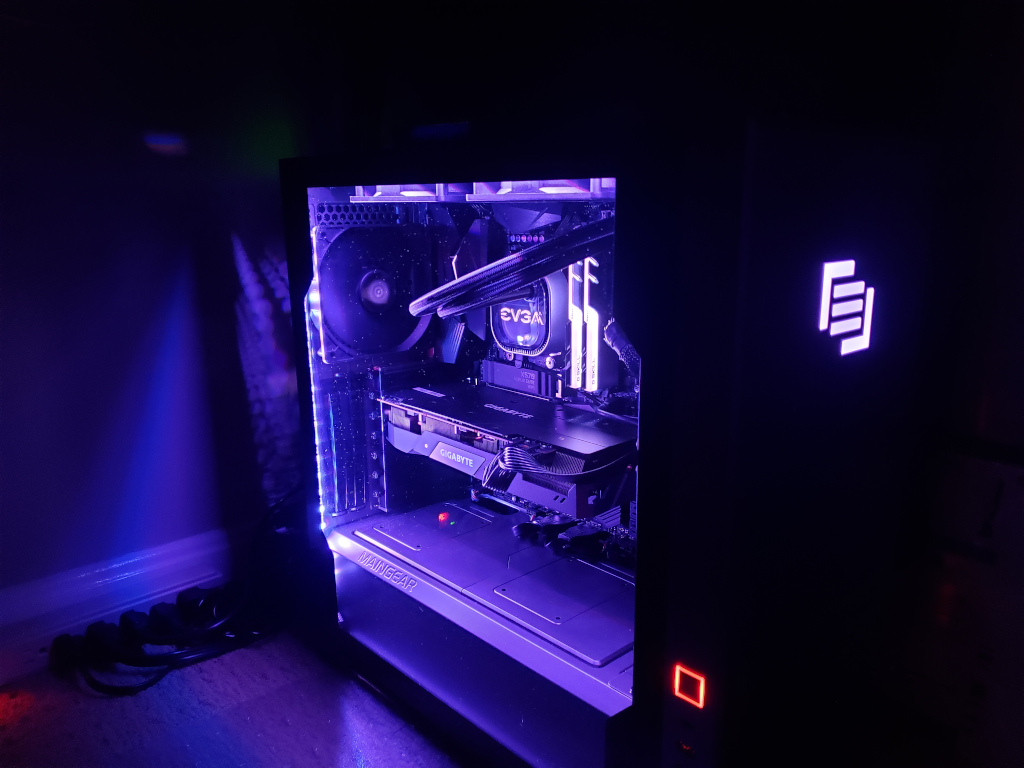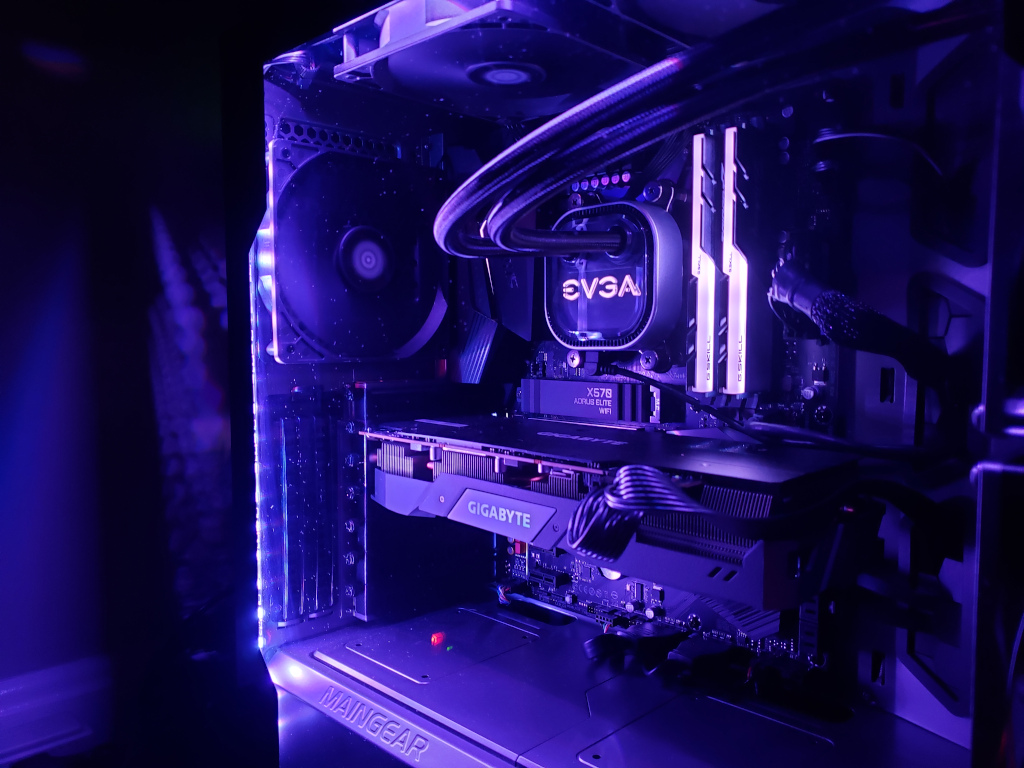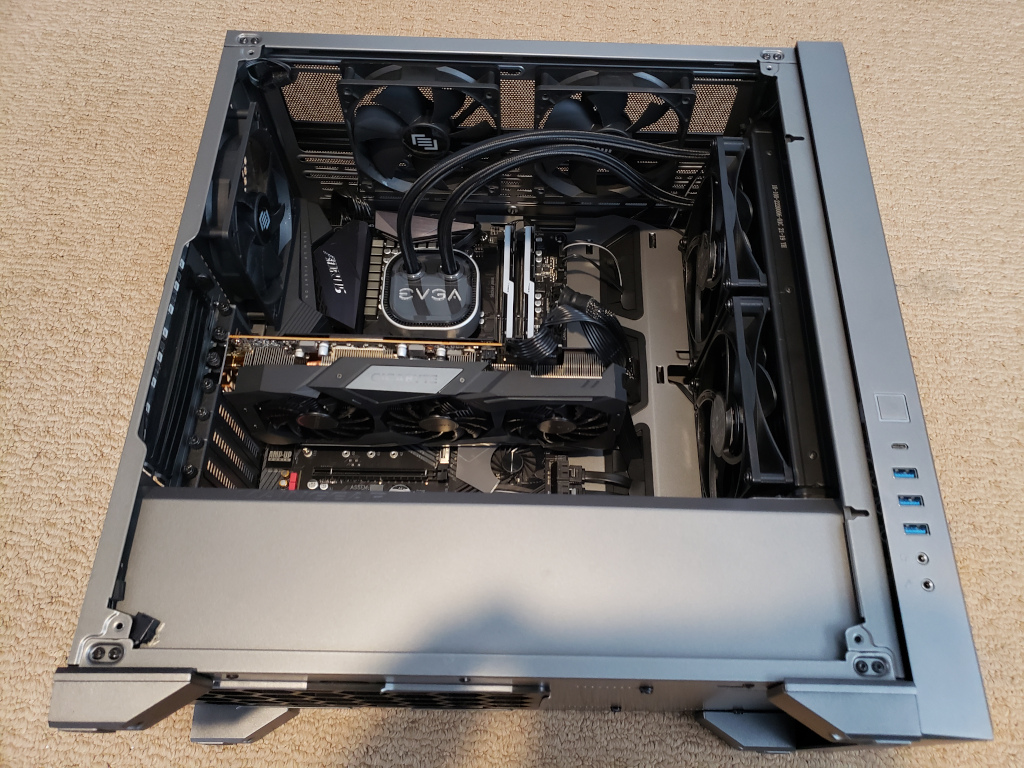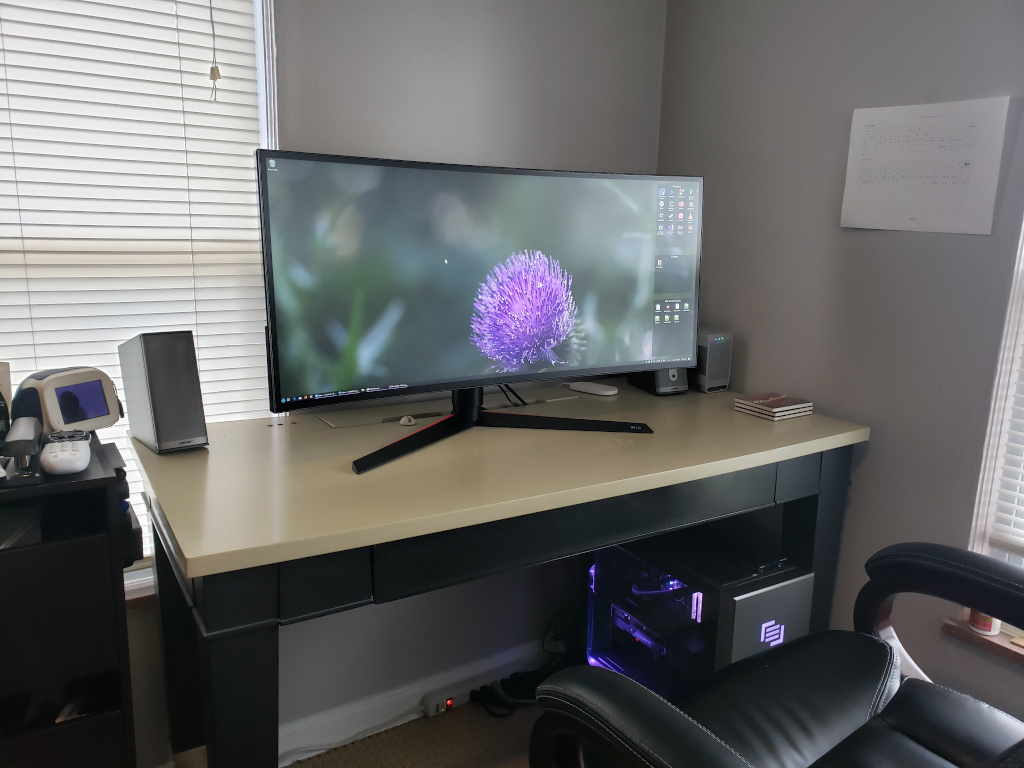 Published: 1/19/2020 4:07 PM
Article by: Noah Wood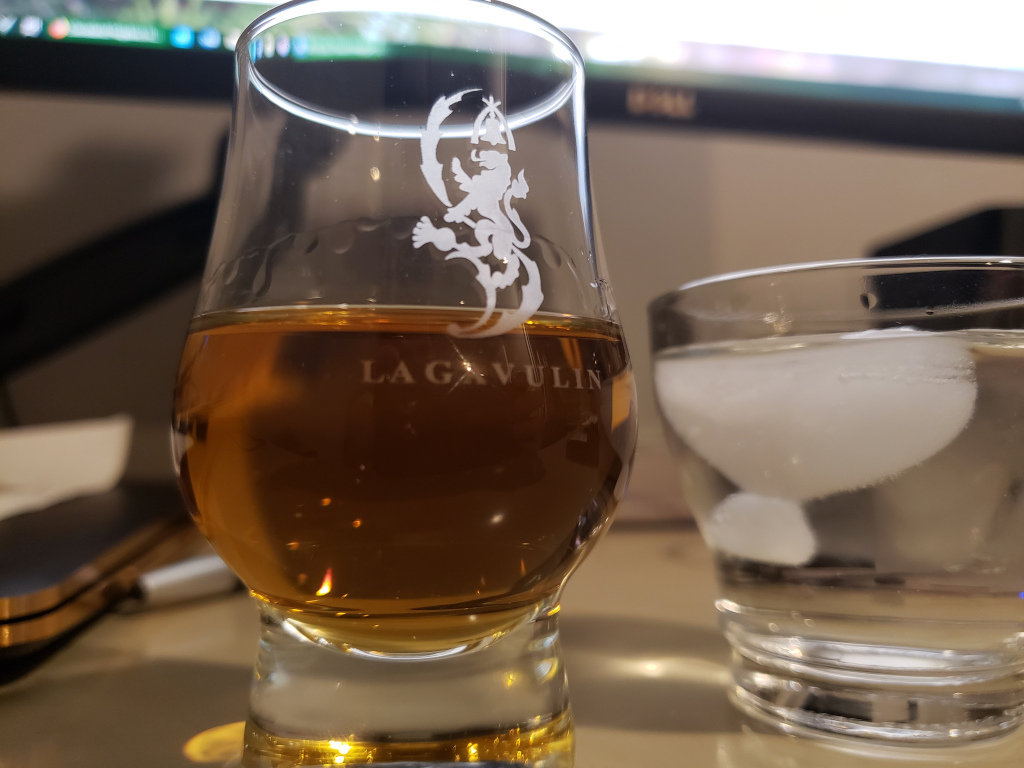 ---
Glen Deveron 20 Highland Single Malt Scotch Whiskey, 40% ABV
Price per 1L at YYZ - Toronto-Pearson International Airport, Canada: $135CAD (~$99USD)
Color: Light brown, toasted straw
Nose: Cherries, apples, toasted wheat; not overly complex (3/5)
Palate: Ripe, fresh fruit, honeydew, apples, red peppers, sherry, fresh-chopped wood, molasses (44/75)
Palate w/Water: Not much improves, but it doesn't get worse; same notes, just less prominent (4/10)
Finish: Raisins, light peat, red wine, plum pudding (8/10)
Mouthfeel: Pretty standard, silky and smooth but no "stickiness" (2/5)
Value: Though it's not likely I'll have the chance again anytime soon, I don't think I'd pickup another bottle. (1/5)
Total Score: 62/100
This is a pretty decent scotch (don't interoperate 62/100 as a grade 'D'), albeit a bit pricey. I'm glad I bought a bottle, but once it's gone, I doubt I'd ever buy this again.
Backstory
I had a trip to Canada recently and decided to peruse the Duty Free store at YYZ before my flight. I saw this bottle priced curiously low for a 20-year vintage. I'd also never heard of it before. Liquor laws in Ohio are pretty conservative and assumed it just wasn't something available in Ohio. I bought a bottle and figured it couldn't be too bad. Luckily it wasn't, but it's not a sleeper either.
Published: 12/21/2018 6:53 PM
Article by: Noah Wood