Noah W.'s blog is full of technological exploration, findings, programming, and the life of a young developer.
I've decided to add a series of whiskey reviews to my blog. Once I add the ability to sort by category, it might be a bit easier to navigate the reviews only. But for now, I present to you my review.
This is not the first whiskey or scotch I've had by any means, but it is my first "formal" review. As will be tradition with my whiskey reviews, this was drunk neat, with a sip of iced water between sips.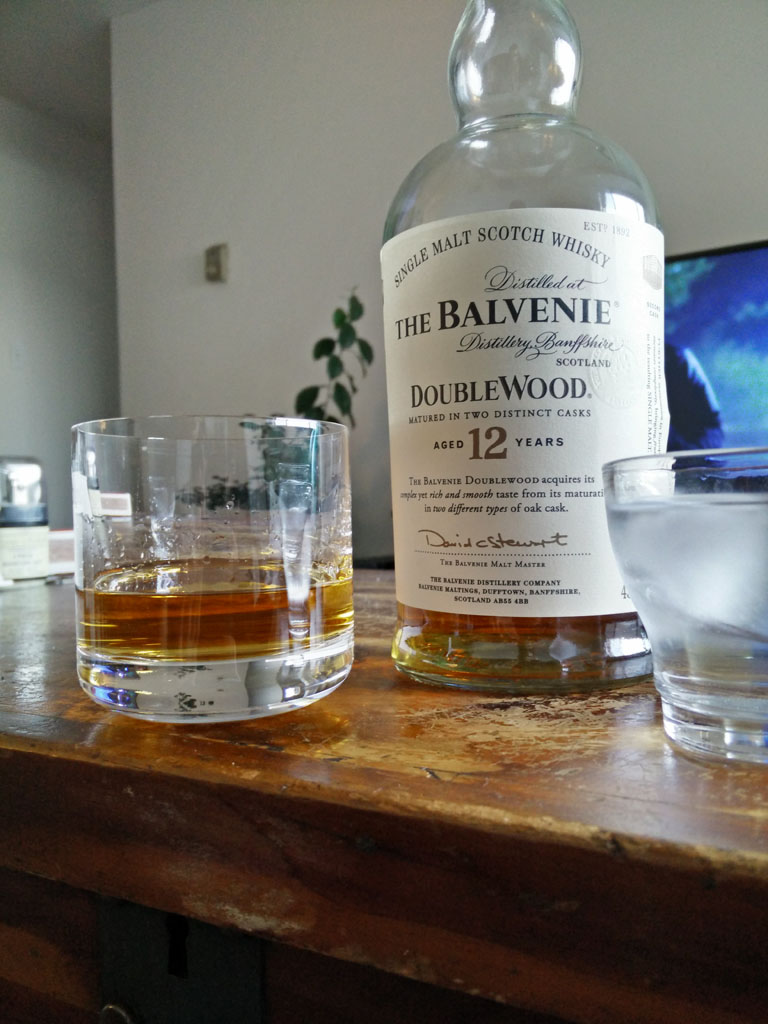 ---
The Balvenie Doublewood: Aged 12 years. Speyside Single Malt Scotch Whiskey, 43% ABV
Price per 750mL in Cleveland, OH, USA: $53
Color: Light Amber
Nose: Fruit, mostly raisins hits first, followed by dried apricots, banana, grapefruit, and hints of strawberry; additionally, there are notes of oak, vanilla, and citric acid (4/5)
Palate: Sherry hits first, followed by our friend, dried fruit; mostly apricot and grapes; as it sits longer, I get hints of pepper, cardamom, clove, and butter toffee (66/75)
Finish: The fruit comes back on the finish and lingers with notes of grape jam, banana creme, sweet oak and spice, which is mostly the clove coming back (7/10)
Mouthfeel: Oily, with a softness about it (5/5)
Value: At $53 for 750mL, this is definitely a deal for me, would buy again (5/5)
Total Score: 87/100
I thought this was a very enjoyable whiskey. It's flavorful and not too complex. For the price, it's a good deal and can be enjoyed by fans of all types of whiskey, not just scotch.
Published: 11/27/2015 9:33 AM
Article by: Noah Wood
A couple of years ago, I decided to buy a new keyboard. One of the podcasts I used to watch was dl.tv. It has since been off the air for a number of years now, but I remember Patrick Norton talking about Unicomp.
I ended up buying a Unicomp UltraClassic. It was one of the better things I bought for my computer. There isn't really a good way to describe to someone why they should buy a more clicky, mechanical keyboard. I can assure you, however, that after you try one, you will certainly understand the appeal.
I recently decided to bring my Unicomp to work since I realized that I was doing most of my typing there instead of at home anymore. The only thing is that now I feel like I need a new mechanical keyboard at home. I certainly don't need one, but it sure is tempting. I'm still thinking about it, but for now, I'm back on a standard rubber dome keyboard at home.
Published: 2/21/2015 10:49 PM
Article by: Noah Wood
After a long hiatus from Minecraft, I decided to attempt to "reboot" my server so to speak. One of my good friends, Ian, sent me a tweet:
Which sparked my interest to get our old server back up and running. I was sad to see that CraftBukkit (Which is the backbone of Minecraft I used to add some additional features to our server) had been sent a DMCA takedown request
It seems lucky that another project called Spigot not only took the place of Bukkit, but is supposedly a little bit faster. My hope is that in using Spigot and the latest version of Java 7 (rather than 8), our server can continue to run and stay stable, which was something I was having a hard time accomplishing using vanilla Minecraft server and Java 8.
Published: 2/8/2015 8:19 PM
Article by: Noah Wood